Insights Discovery
What is Insights Discovery?
---
Insights Discovery is a psychometric tool which enhances self-awareness with the aim of improving performance at work. It offers benefits for all organisation types and any team members – from Executives and senior managers to those at the front-line.
It is based on the concepts of Carl Jung and uses colours to exemplify various personality traits.
This use of colours makes Insights Discovery simple and engaging for you and your team – a simplicity which belies the true depth and breadth of understanding it reveals.
Change Formation will help you complete the Insights Discovery questionnaire and we provide detailed feedback on how to interpret and apply the results.
Develop, perform and achieve with Insights Discovery
---
We believe the key to an enjoyable and fulfilling working life is a powerful combination of three factors:
When this combination is set in a context where you believe you can achieve the 'rewards that you value' (which might not be money or promotion), then your performance and engagement at work will be at their highest.
Change Formation works with individuals, teams and organisations to clarify and harness these three factors to help them develop, perform and achieve.
Insights colours
---
Look at the words below.
Which of these words would you use to describe yourself?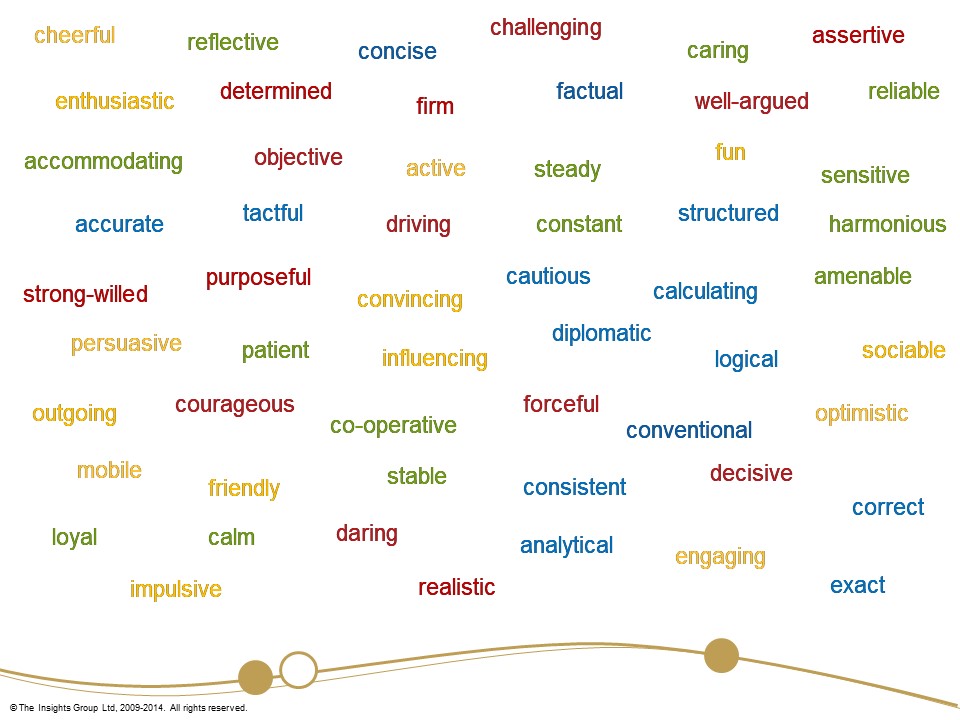 You'll notice that each word is written in red, yellow, green or blue.  How many of each colour were the words you picked to describe yourself?
Notice the themes of the words in each colour.
The Insights Discovery Personality Profiling System uses these 4 colours to identify your individual combination of "colour energies" to describe your personality.  You naturally have all 4 energies but some will seem more easy to use than others.  These are your 'preferences'.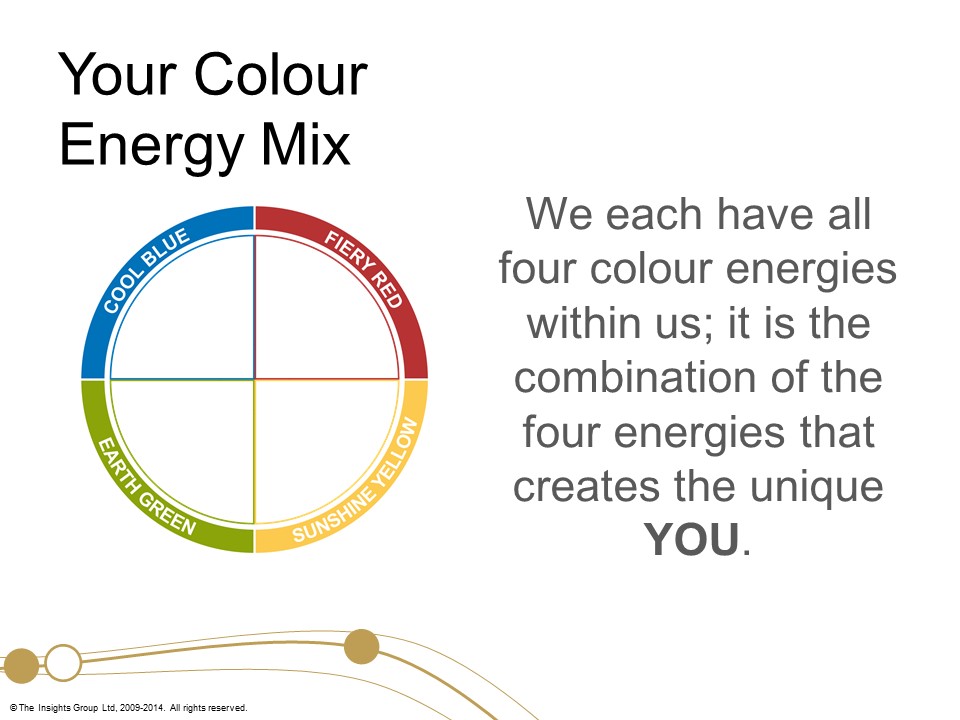 The Insights Discovery process
---
1. Insights Discovery questionnaire and report
In order to identify your preferences accurately we invite you to complete an Insights Discovery questionnaire called the 'Evaluator'.
Your answers in the Insights Discovery questionnaire will generate a report that gives you a great deal of insightful information about yourself.
The report is the first part of our Insights Discovery service.
Insights Discovery Personal Reporting
2. Personal Insights Discovery feedback sessions
When you order reports from us, you'll also receive feedback in either a one to one session or as part of an engaging interactive workshop. These will bring the report to life, explain the wealth of information and answer your questions.  We'll also work with each person to decide what to do next.
Insights Discovery is a great tool for increasing self-awareness, learning how to communicate effectively with others and supporting team development programmes.
In our experience, the principles, language and enjoyment of Insights Discovery are really infectious in organisations.
With our help to interpret and plan your next steps, Insights Discovery will enable you and your business to develop, perform and achieve.
Harness the power of Insights Discovery for your business
---
Our Insights Discovery service can be used as a standalone evaluation technique. Or, it can be part of a wider programme of people development (such as a Team Effectiveness Workshop).
Call us on 01444 702 701 or email info@changeformation.co.uk to find out more.
Are you ready to take your skills to the next level?   Contact us