A Challenge for Charity – Completed!
On 10th May I joined over 1000 cyclists on the Carten100 – a ride from Cardiff to Tenby in one day.
The event raises funds for Marie Curie Cancer Care and I raised additional funds for Teenage Cancer Trust.  Given that this was the anniversary of the passing of my daughter's dear friend, Adam, from cancer aged 14 and with the high profile of the amazing Stephen Sutton and his fund raising, the event was poignant for me.
Flexing the Determination Muscles!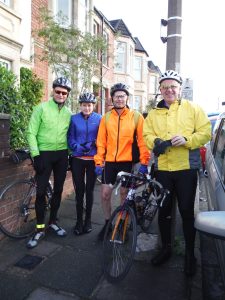 Having trained since January, I felt physically ready.  However, I hadn't experienced the gale force headwinds that we all faced on the day! This gave the ride an extra level of challenge – both physically and mentally!  So it wasn't just my leg muscles that were working overtime, my determination muscles were having to strengthen along the way.
I rode with my friend Steve, my brother Mark and his 14 year old daughter Eva!  Eva's determination was outstanding and she was the youngest girl to finish.
Crossing the finish line in Tenby, with a crowd applauding, was a proud moment.  But my challenge is small compared to those facing life-threatening illnesses and teenage cancer  seems even more unfair.  Raising funds to support such brave people is my small contribution…